When your company's paper records start to really pile up, you most likely are going to look into offsite records storage. When you do this, it's very important to search for a provider that not only fits your needs, but also one that is secure and reliable. We at Rover Records Management get asked a lot of questions regarding different aspects of the records management process. While our services are more flexible and personalized than some, and despite the fact that we've worked with hundreds of businesses in the DC/MD/VA area, we understand that we may not be the best fit for every company out there. In fact, because we do talk to so many business, we inevitably get the question: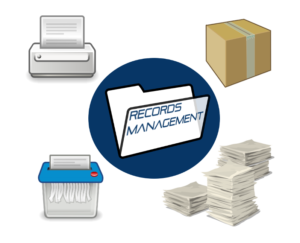 As you might imagine, most companies would never honestly answer this question. But our philosophy here at Rover is one of transparency and honesty—always wanting what is ultimately best for the customer. With that being said, in this blog we'll discuss some of the other records management companies we've seen in the local area that have a solid history within this industry.
A Review of the Top Records Management Companies in the DC/Maryland/Virginia Area
Access Information Management: This is another large company. Access Information Management provides information management and secure document destruction for more than 25,000 clients. It currently has more than 40 million cubic feet of records (70 million boxes and files) under its management. It also offers an offsite media vault for the secure protection of electronic media and vital records. Access Information Management also offers onsite (mobile) secure document shredding services in addition to offsite shredding services at its locations in Cartonsville, Maryland and Manassas, Virginia—all NAID AAA certified. Access goes so far as to even feature programs that help to ensure its clients meet regulatory compliances such as FACTA, HIPAA, the Gramm-Leach-Bliley Act and the Federal Privacy Act.
Recall: Established in 1999, Recall now provides information management services for more than 80,000 customer accounts in 25 separate countries. Recall has more than 300 operations centers that support the secure storage of physical and digital information. In regards to physical information, Recall practices secure storage, retrieval and proper destruction of cartons, paper documents, files and data on media tapes, disks, hard drives and other computer storage formats. Recall also helps customers to expand digital file storage, secure retrieval techniques via computers and mobile devices) and digital information governance to ensure its customers are in compliance with regulatory and legal requirements. Recall is also able to track individual documents and cartons using radio frequency identification (RDIF) technology. According to Recall, this allows for more than 300 cartons to be scanned and audited in less than 30 seconds with a 99.9% accuracy rate. In addition, Recall also offers secure document shredding services—claiming that its shredding services exceed the certification requirements established by NAID.
Iron Mountain: This one might be a bit obvious if you've already done some research or currently use Iron Mountain. Formed in 1951, Iron Mountain is now one of the largest records management providers in the world. The services it offers include records management for paper and electronic documents, data management solutions for services like offsite tape vaulting and data restoration, and information destruction. With a headquarters in Boston, Iron Mountain assists more than 156,000 organizations throughout 36 countries and five continents with their individual records management needs. More than 17,000 professionals, 1,000 facilities, ten data centers and 3,600 vehicles make up this massive records management company. As for D.C. companies looking for a regional provider, Iron Mountain has locations in Landover, Frederick and Laurel, Maryland. Iron Mountain is compliant with the Payment Card Industry (PCI) Data Security Standards for 2014. Also offering document shredding services for your company's paper shredding needs, Iron Mountain's facilities are NAID AAA certified, which ensures the security of your sensitive information.
JK Moving Services: Yes, that's right. JK Moving does more than help clients move from place to place. It also has an entire records management division located at its headquarters in Sterling, Virginia. As the third largest independent mover in the U.S., this D.C.-based company formed its commercial division for records management in 1996. Now, JK features more than 400,000 square feet of storage space. Within this area is 90,000-square feet of document storage space in addition to a media storage vault. Aside from document management, JK also offers shredding and destruction services. JK stresses the fact that it has very aggressive recycle and reuse programs that help to ensure sustainability. One of the most unique facets of JK Moving's records management division is its ability to accommodate inventory storage services. Other than storing just paper or electronic records, JK clients are able to store furniture, safes, electronic and lab equipment, museum exhibits, rare wine collections and more.
GRM: Founded in 1987, GRM has grown to be one of the largest records management companies worldwide. GRM's presence is found in 15 major U.S. marketplaces, with its Washington, D.C. location in Capitol Heights, Maryland. Services that GRM offers include document storage, digital records management, document imaging, document shredding and secure data disposal (e-waste). Choosing GRM to manage your company's records should give you peace of mind, as it offers PrecisionPLUS barcode tracking on all of its records. This provides GRM's clients with a continuous update on the chain-of-custody of their important records. GRM also claims that this barcode tracking technology is guaranteed to be 100% accurate. Managing more than 5,000,000 containers of records, GRM is also the largest records management company in China. In addition to following an All-Shred policy—meaning it is capable of destroying all forms of media—GRM's document shredding services are NAID AAA certified. Perhaps the most unique aspect about GRM is its goal to not become the largest records management company, but rather a records management company that excels in serving its customers.
Things to Remember
Now that you know a little about these industry leaders, it's time for you to determine what types of services your company requires. When making your decision on which records management company to use, remember to keep these factors in mind:
Security of your records
Chain-of-custody of your records
Accessibility of your records
Reliability of the records management company you choose
While you could easily select a larger records management company with a broader handprint across the world, choosing Rover Records Management as your provider is a decision that will provide you with customizable and reliable service that is still capable of handling your records management needs nationally.
Here at Rover, we emphasize the notion that every company is different in its ways of business and in its service needs. The way one company needs its records managed isn't the same way another company needs its records managed. Our services are flexible, as we are fully able to customize them to your individual needs. With a team of service professionals located in Dulles, Virginia, Rover Records Management will provide you with local and reliable records management.